LATEST NEWS

Display Packaging
In line with customer demand our products can now be delivered in high quality display packaging. The packaging is a slide on bubble with colour backing card, with bar coded label on the reverse side. The slide on bubble is more durable and less likely to be damaged in a busy shop environment.
Battery Switches
Our new range of battery switches have been introduced to provide a more comprehensive range of high quality high performance switches. Silver plated contacts minimizes arcing and reduces carbon build up, which increases the life and performance of the switch. Carbon build up is the primary reason for the premature failure of battery switches with copper or brass contacts.
Battery Master Switch
Complete with resistor provides earthing for the alternator in circumstances where the switch could be turned to the off position, whilst the engine is still running. Prevents fire hazard and is mainly used on competition cars. Download the Battery Master Switch details.
Heavy Duty Battery Switch
High performance switch for industrial and commercial vehicle applications. Rated at 250 Amps continous and at 2,500 Amps for 5 seconds. Download the Heavy Duty Battery Switch details.
Socket with Spring Cover
To compliment their popular range of plugs and sockets Merit-Malta are introducing a spring cover. The spring action closes the cover when the plug is with drawn from the socket, providing a seal from ingress of dirt. The Merit Part Number of the Spring Cover is 114501. The Merit Part Number of the Spring Cover with Two Terminal Socket is 114322.
Angled Plug
To compliment our range of plugs and sockets Merit-Malta are introducing the 6V – 24V Max 18A angled plug for 114000 series. The Merit part number is 113100.
USB Auto charger for mobile phone
This compact USB charger for mobile phones is compatible with a lot of brands. 5 Volts @ 1 amp for quick charging. Smart fuse protects with built in circuit breaker. CE and ROHS compliant. A USB 2.0 data cable for iphone and ipod is also supplied upon request.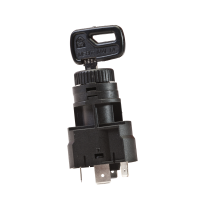 Ignition Switch
As part of the Merit-Malta universal ignition starter switch series, the Diesel Ignition Starter product sheet is available for download.